This was our first troop summer camp for a number of years. 7 scouts and 2 leaders headed off to the Brecon Beacons for the first week of the summer holidays, for a 5 day trip Monday to Friday. We chose Brecon, in Powys, Wales as it is in the heart of the Beacons which is a vast natural playground and a beautiful setting for a camp and Peter (GSL) had extremely useful local knowledge from his family trips to the area. The town is in the foothills of the major peaks on the River Usk which is closely followed by the Brecon and Monmouthshire Canal which contours around the foot hills at a height that offers spectacular views of the hills from the towpath. The meandering River Wye is a short distance away with miles of interesting moving water. In case of poor weather, there is an activity centre at Llangorse that provides instructed indoor and outdoor climbing and rope activities, an artificial cave and pony trekking from 1 hour to overnight trips.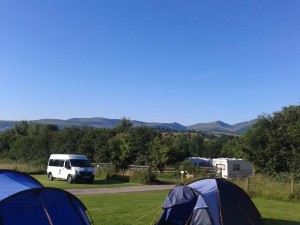 We stayed at Bishops Meadow Camping and Caravan Park which is a family site often frequented by Scout groups and D of E expeditions, 1 mile from the Town Centre. We pitched up in the large field next to the main caravan field which is usually quiet during the week (the field does get busy at weekends in the summer). The site is 200m above sea level with excellent views of the main peaks.
We set off around 9.00am on the Monday, driving 200 miles in the minibus kindly loaned by a local school. After crossing the River Severn on the M4 we stopped at Magor Services, Newport, for lunch and then took the A449 - A40 scenic route via Abergavenny. Camp was soon set up followed by dinner and the traditional night hike to orientate ourselves.
Our programme was packed with activities so every morning was an early start with a quick shower, cooked breakfast, make packed lunch, wash up and off site by 8.45. Credit is due to the Troop for achieving this every morning with efficient teamwork.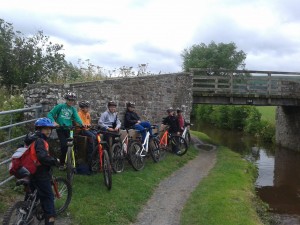 Tuesday was cycling day. We picked up hired cycles from Bikes and Hikes in the Town Centre. After carefully navigating the streets the short distance to the canal basin we picked up the Monmouthshire and Brecon canal towpath which was to be our continuous landmark to Talybont-on-Usk where we would head south to Talybont Reservoir and follow the track which forms the Taff Trail. We arrived at Talybont at lunch time having ridden over an aqueduct, under bridges old and new and passed locks and lift bridges. After some fun cycling up a steep stony track, it was time to turn round to head back to base. The day was nicely rounded off by eating in at Llanfaes Dairy ice cream parlour. Supper was home made kebabs cooked on the BBQ.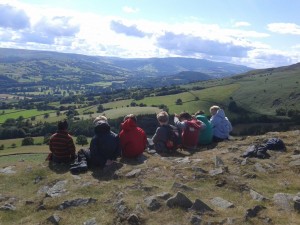 Wednesday was a day out visiting the Big Pit National Coal Museum at Blaenafon, about 40 minutes drive away. We did not need to book, but arrived early to avoid having to queue. After having our contraband (mobile phones, watches and car keys) confiscated and locked away due to risk of sparks, we donned our PPE including helmet, cap lamp, belt, battery and 'self rescuer' and were taken down the mineshaft to the coalface. Our guide was an extremely knowledgeable and entertaining ex miner from the area. We then explored the other areas of the site including changing rooms and a modern mining exhibition. We stopped at the Black Mountains on the way back to the site to climb Crug Hywel (Table Mountain in English) which was within our remit at 451m high. This was high enough to enjoy excellent views of the Black Mountains and Brecon Beacons and satisfied our need to climb up something. Supper was roast leg of lamb and a joint of gammon slow cooked on the BBQ.
Thursday was our adventurous activity day again arranged by Keith at Bikes and Hikes who provided Andy our excellent instructor for the day. The first activity was rock climbing at a disused quarry near Merthyr Tydfil. As we were a small group there was plenty of time to coach those who had not climbed before. After lunch we headed off in the bus to the gorge where as Andy put it "we were going for a dip", and activity sold to as us "Gorge Walking", but actually more like swimming. Think of white water rafting without the boats! The best fun we have had ever! We returned back to base with 9 bin bags full of soaking wet kit which was frozen solid the next morning as there was a frost overnight. Supper was takeaway from the restaurant on site, individual choice.
Friday morning was time to strike camp and travel home. We packed at a leisurely pace and departed at lunch time leaving the GSL's caravan (camp office) behind ready for the family holiday on the Pembrokeshire Coast which is another amazing location to be explored at a later date.
Many thanks to James our Scout Leader for committing to this venture, Bishops Meadow Camping and Caravan Park, and Bikes and Hikes for organising our activities.
Quotes from Tom, Aled & Joe: "We enjoyed the bike ride and rock climbing but particularly liked the gorge walking." (Aled+Joe+Tom) "The food was great and cooking breakfast and dinner everyday was an insight." (Tom) I really enjoyed making the BBQ. (Joe)
Links:
Photo Album: https://goo.gl/photos/knuacbK7EQxSd9mY7
http://www.bishops-meadow.co.uk/
http://www.museumwales.ac.uk/bigpit/