Dear Beavers, Cubs, Scouts, Young Leaders, Parents and Leaders,
This week is the last week of term. Friday 31st March Beavers are not meeting, Cubs are hosting a Mother's Day event. Scouts will be meeting on at the Jump In Trampoline Arena on Thursday 30th March (instead of Friday).  Congratulations to Finley for achieving the Jack Petchey Award  which is funding this special event. Don't forget to tell the Scout Leaders you are coming by responding to the invitation.
Meetings resume after Easter Holidays on Friday 21st April.
St George's Day Parade
This year's celebration is on Sunday 23rd April. All members of the group are expected to attend.  Full smart uniform is essential including school trousers/skirt if you don't have uniform trousers/skirt.
The start location has changed to the area in front of Enfield Registry Office on Gentleman's Row. Please assemble from 2:30pm for a 3pm move off. We should finish by 4:15pm at Portcullis Car Park opposite the Civic Centre in Silver Street. We will have a sign on a pole so we can be found at the start and finish and be identified during the procession.
Pantomime Audition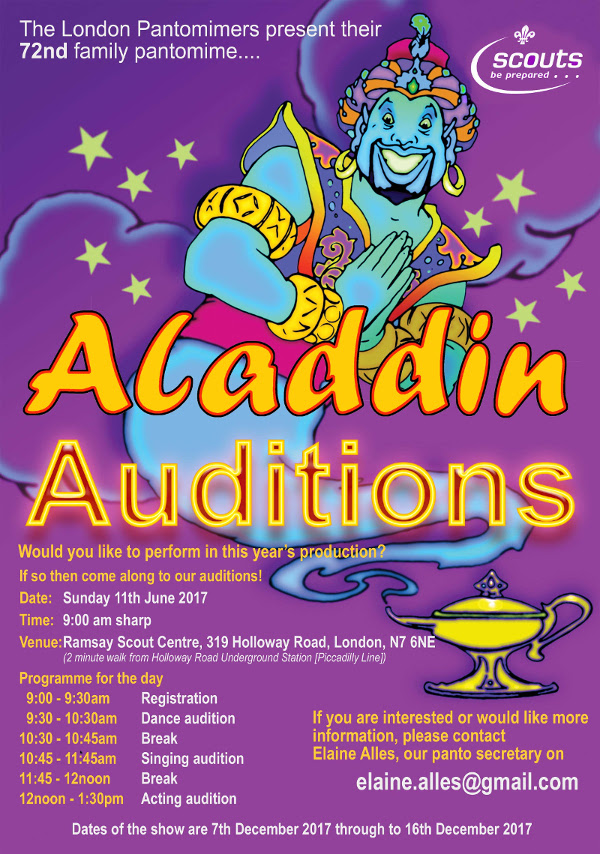 Thank you for your help and support.
Peter
-------------------------------------------
Peter Jones
Group Scout Leader
29th Enfield Scouts